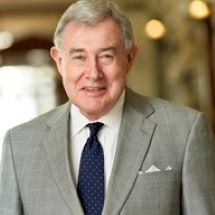 Location: Memphis
81 Monroe Ave.
Suite 600
Memphis, TN 38103


Biography
Leland applies five decades of jury trial experience to the problems of his clients. After starting his legal career as law clerk for the Supreme Court of Tennessee, Leland was Assistant District Attorney General in the 15th and 30th Judicial Districts of Tennessee and prosecuted hundreds of jury trials. His private practice, since 1980, has been almost exclusively civil and his practice areas include business litigation, pharmacy liability, premises liability, product liability, professional liability, and trucking and tort litigation.
Leland is an accomplished, experienced lawyer whose peers have given him an AV Martindale-Hubbell rating for the last 22 years.
Examples of Leland's civil trial court experience includes:
Voluntary dismissal by plaintiff of all claims after plaintiff's deposition in a tort case arising from an altercation between a bar/restaurant customer and a server (TN).
Successful trial court defense motions to dismiss claims for negligence per se and punitive damages in third-party criminal act tort case (TN).
Partial Summary Judgment for defendant child care center followed by voluntary dismissal of remaining claims by plaintiffs.
Judgment for a Plaintiff corporation for recovery for unconstitutional assessment of state franchise tax and penalty.
Admitted pharmacy error verdict less than pre-trial offer.
Defense verdict and successful counterclaim involving bad faith and arson.
Defense directed verdict in U.S.D.C. (TN) in a wrongful death trucking accident.
Defense directed verdicts in state court in a fire loss suit against a chimney repair company in a subrogation claim by a homeowners' carrier to recover a substantial loss payment.
Defense summary judgment in State Court (TN) in a wrongful death trucking accident.
Plaintiff Insurance Company's Summary Judgment for declaration of no coverage.
Defense verdict – alleged liability of nursing staffing company and its employee nurse for error in patient care.
Defense verdict – alleged hospital nursing malpractice.
Defense verdict – alleged negligent hiring and negligent retention.
Defense verdict – premises liability at a grain/crop storage facility.
Defense verdict – premises liability at private residence.
Defense verdict – altercation in night club between staffers and customers.
Admitted industrial injury judgment less than pre-trial offer.
Defense summary judgment for claims under 42 USC § 1983.
Defense summary judgment to alleged third-party criminal act at drug store.
Exclusion of accident reconstruction expert in U.S.D.C. (TN).
Defense Motions for Dismissal of statutory and regulatory claims granted with defense Motion for Summary Judgment for Tennessee common law claims in wrongful death suit against trucking company.
He co-authored "Civil Trial Procedures in Tennessee" and speaks regularly at continuing legal education seminars on diverse topics encompassing annual law updates, civil trial and appellate procedure, legal malpractice, bad faith, deposition and trial techniques, and changing demographics and structures in the legal profession. For six years ending in March 2017, he served as a hearing panel member on complaints involving lawyers for the Tennessee Board of Professional Responsibility. He presently represents parties in personal injury matters in all Grand Division of Tennessee.
Beginning in 2015, he authored a series of articles in the newsletter of the Tennessee Association of Professional Mediators addressing issues peculiar to evaluative mediations and addressing the most common criticisms of by mediating parties of mediators.
Education
Vanderbilt University Law School, Nashville, Tennessee
Vanderbilt University, Nashville, Tennessee
---
Practice Areas
Business Litigation
Pharmacy Liability
Premises Liability
Product Liability
Professional Liability
Trucking and Tort Litigation
---
Professional Associations
Memphis Bar Foundation, Fellow
Memphis Bar Association, Member, Director
Tennessee Association of Professional Mediators, Member
Tennessee Bar Association, Member
American Bar Association, Member
Tennessee Defense Lawyers Association, Member
Defense Research Institute, Member, Subcommittee Chairman
American Inns of Court (Leo Bearman, Sr. Chapter) , Master of the Bench, Program Chairman, Treasurer
---
Honors
American Inns of Court (Leo Bearman, Sr. Chapter) Executive Committee "Mentor of the Year Award"
---
Representative Cases
State v. Clayton, 480 S.W.2d 922 (Tenn. 1971)
State v. Murray, 480 S.W.2d 355 (Tenn. 1972)
State v. Daugherty (Argued), 483 S.W.2d 90 (Tenn. 1972)
Gwin v. State, 523 S.W.2d 636 (Tenn. 1975)
State v. Coe, 655 S.W.2d 903 (capital case) (Tenn. 1983)
Thompson-McKinnon Securities, Inc. v. Moore's Farm Supply, Inc., 557 F.Supp. 1004 (principal and agent) (W.D. Tenn. 1983)
Howard Cotton Co. v. Olsen (Argued), 675 S.W.2d 154 (state taxation) (Tenn. 1984)
Northern Insurance Company of New York v. Taghavi (Argued), 68 F.3d 475, 1995 WL 600567 (declaration of no coverage for breach of insurance policy condition) (U.S. Court of Appeals, Sixth Circuit 1995)
Advo, Inc. v. Phillips (Argued), 989 S.W.2d 693 (Tenn. 1998)
Hayes v. Coopertown's Mastersweep, Inc. (Tried, Argued) 2015 WL 3487076 (Permission to Appeal denied, Nov. 25, 2015); [directed verdicts for defendant on grounds of duty and statute of repose]
Hussey v. Woods, 538 S.W. 3d 476 (Tenn. 2017
---
Certified Legal Specialties
Tennessee Supreme Court Rule 31 Listed Mediator
---
Current Employment Position
---
Bar Admissions
Tennessee, 1968
U.S. Supreme Court, 1972
U.S. District Court Western District of Tennessee, 1972
U.S. District Court Northern District of California, 1983
U.S. Court of Appeals 6th Circuit, 1987
U.S. District Court Northern District of Mississippi, 1988
U.S. Court of Appeals 5th Circuit, 1989
U.S. District Court Eastern District of Arkansas, 1990
U.S. District Court Western District of Arkansas, 1990
U.S. District Court Middle District of Tennessee, 2000
---
Articles
Pet Peeves About Mediators: Article 1
Pet Peeves About Mediators: Article 2
Pet Peeves About Mediators: Article 3
Pet Peeves About Mediators: Article 4